The CL-200-WF is an IAQ (Indoor Air Quality) monitoring module that includes Wi-Fi, Ethernet and RS-485 interfaces, It provides a WLAN connection which complies with the IEEE802.11b/g/n standards. With the popularity of 802.11 network infrastructure, the modules provide an easy method of incorporating wireless connectivity into monitoring and control systems. The CL-200-WF series of Data Logger devices can be used to record PM2.5, CO, CO2, Temperature, Real-time data can be accessed from the CL-200-WF Data Logger from anywhere and at any time using the free Windows software, the iOS App or the Android App, as long as they are connected to the same local network as the Data Logger.

Support is provided for popular industrial protocols such as DCON, Modbus RTU, and Modbus TCP. For Ethernet interface, it also supports the emerging machineto-machine (M2M)/)IoT (Internet of Things) connectivity protocol – MQTT. The CL-200-WF Data Logger can be connected via widely used communication interfaces including RS-485, Ethernet, PoE and Wi-Fi, meaning that the device can be easily integrated into existing HMI or SCADA systems, and is easily maintained in a distributed control system.


Supports the MQTT Protocol for IoT Applications Features (Ethernet Interface Only)
The MQTT protocol is designed for the efficient exchange of realtime data between a sensor and a mobile device. It operates via TCP/IP and is in widest use today in "machine-to-machine" (M2M) and "Internet of Things" applications.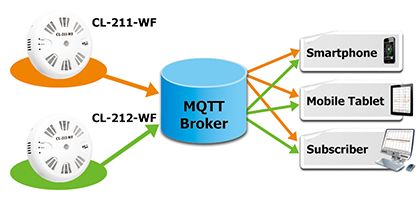 Get Real-time Data Anywhere and Anytime
Real-time data from the CL-200-WF data logger can be accessed from anywhere and at any time using the DL300 Utility, the iOS or Android App, or via a regular web browser, as long as they are connected to the same local network as the data logger.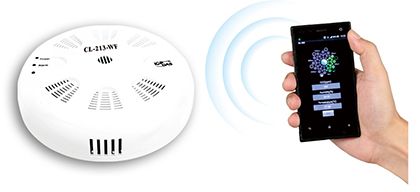 Simple and Powerful CL-200-WF Utility
The DL300 Utility can be used to configure the modules, monitor real-time data, group CL-200-WF modules so that the status of distribution groups can be viewed and managed. The utility also allows the log data to be downloaded and exported to a .CSV file that can then be imported into any industry-standard software or spread sheet for analysis.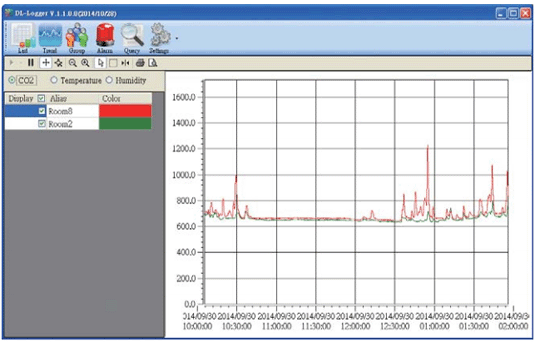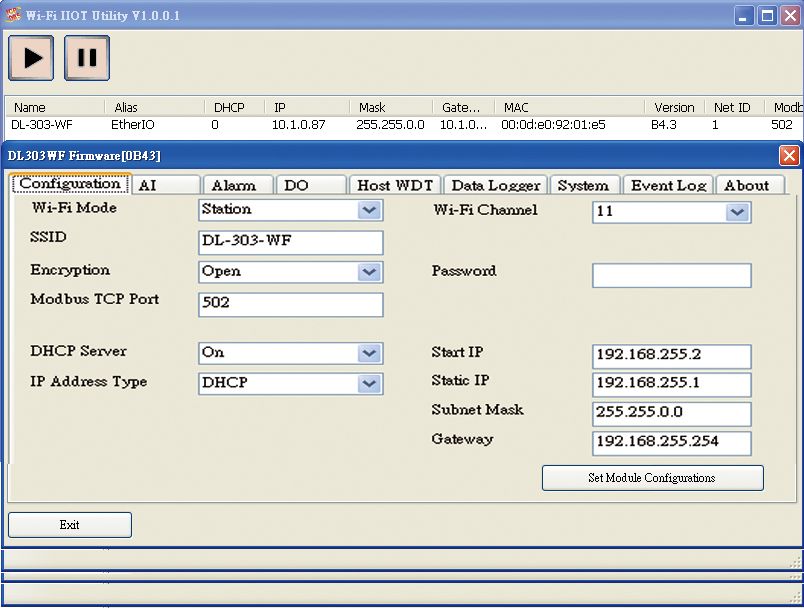 Transportation of Food or Pharmaceuticals

Food and Beverage Industry (HACCP)

Blood Stations and Pharmacies

Building and Energy Management

Warehouse Management

Museums, Archives and Galleries
Indoor or Underground Parking Lot Automatic Monitoring Solution
The air quality automation system for indoor or underground parking lot can use the CL-200-WF series modules to monitor the health and safety information, such as CO, CO2, temperature, humidity and dew point, and more...